Vertical Balers » B-series
Baler B4 Textile
The B4 textile baler was specially designed for compacting textils and clothing. The chamber does not have retainer dogs or paint, which prevents ripping and staining.
---
Highlights and product features
No retainer dogs or paint inside chamber
The B4 textile is a dynamic machine for compacting clothing that is free of rips and stains.
Manageable bales
Finished bales are small and manageable after safely removed with the two-hand ejection system.
B4 Textile - Unique baler for clothing and textiles:
Easy-to-use control panel
Small base area and overall width (37 in.)
Finished bales of just 30 x 20 x 24 in.
Automatic ejection system
Full bale indicator light
Single-phase power connection
Powder Coating provides durable finish in many colors
How does the baler work?
Time-saving and easy waste handling
Load your recyclables into vertical baler.
A full-bale light tells you when the baler is full.
Tie off and eject the compacted bale.
Remove the bale with a pallet jack for storage untill collection.
---
As quiet as an air conditioner
Keep track of your equipment while collecting data
Optimize your equipment with BRA-IN, short for Bramidan Intelligence. Our IOT platform equips our customers with data and push notifications that help to make informed decisions that reduce operating costs and benefit the environment. Access through the BRA-IN Webportal or App.*
checkCollection of data – troubleshoot errors, track status, fill levels, and number of bales made, etc.
checkLocate equipment - track the geographical location and assign groups based on store chain or territory.
checkPush notifications – receive email or text notifications alerting you of the status of your machinery.
*Requires active subscription, availability may vary from country to country
| | |
| --- | --- |
| Bale weight textile (lbs) | 55-175 |
| Press force (lbs) | 8,800 |
| Power supply | 110V 1-Phase 60Hz 10A |
| Motor (HP) | 1.0 |
| Noise Level (dB) | 57-60 |
| Cycle time avg. (sec) | 48 |
| Dimensions WxDxH (inch) | 39 x 28 x 78 |
| Weight (lbs) | 661 lbs |
| Feed opening WxH (inch) | 30 x 18 |
| Load height (inch) | 26 |
| Chamber height (inch) | 39 |
| Stroke (inch) | 26 |
| Number of ties | 2 |
| Type of tying | Twine |
| Full bale light | Yes |
| Bale eject | Automatic |
| Waste volume | Small |
Questions? Get in touch today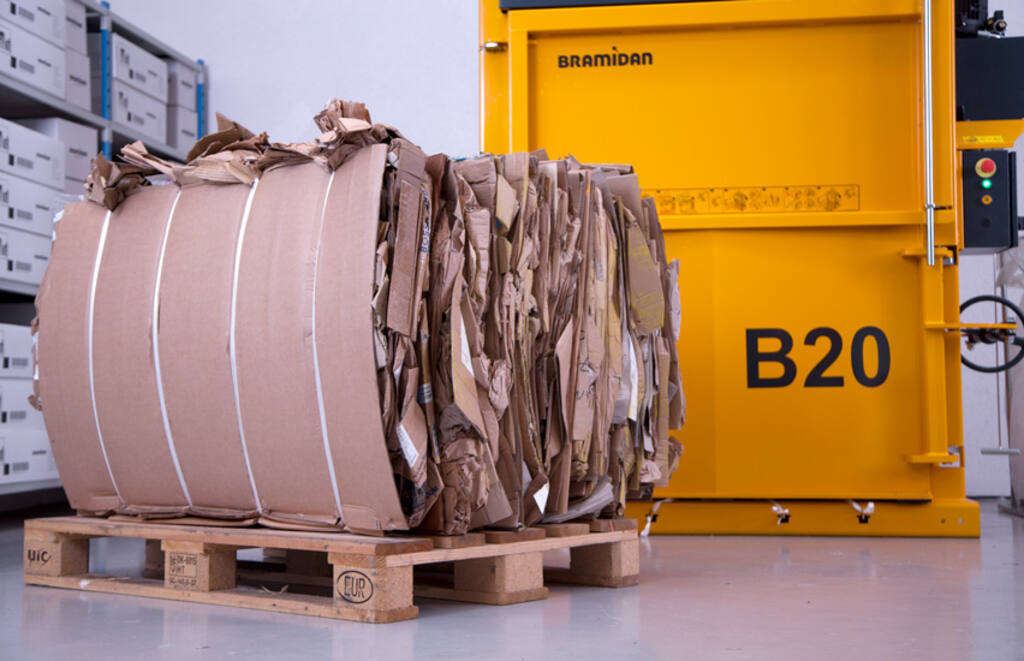 Fill in the form and we will contact you.